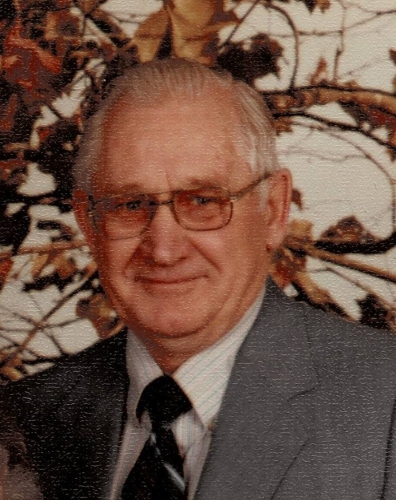 ODIN — Vernon Leon Deadmond, 100, of Odin, passed away Saturday, January 21, 2023.
He was born on December 19, 1922, to Riley Deadmond and Naomi (Sullens) Deadmond at his family home in Odin, Illinois. Leon married Anna G. (Wilson) Deadmond on August 25, 1943, and she preceded him in death on August 20, 2005. He later married Thelma (Shuler) Phillips Deadmond on May 1, 2006, and she preceded him in death on February 12, 2021.
He is survived by his son: Vernon and wife Janna (Campbell) Deadmond of Odin, Illinois; grandchildren: Aaron S. and Traci Deadmond of Sandoval, Adam and Millie Deadmond of Mt. Vernon, Brian and Kari Deadmond of Effingham, and Keeli and John Snow of Greenville; great-grandchildren: Elsa Snow, Damien Snow, Klayton Deadmond, Bowen Deadmond, Mason Deadmond, Kalissa Deadmond and Carter Deadmond; adopted granddaughter: Lucy Khwanwong of Bangkok, Thailand, and many nieces and nephews.
He was preceded in death by his parents, and brothers: Louis Deadmond and Robert Deadmond.
Leon was a World War II veteran member of the 793rd Military Police Battalion. He was a carpenter and built many homes and churches in Southern Illinois. In 1964, he opened Thrifty Sales along with his brother and worked there until he retired in 1979. Leon was of the Baptist Faith all of his life. He enjoyed woodworking and made beautiful furniture. He loved gardening, traveling, listening to gospel music, and spending time with his grandchildren and great-grandchildren. He was an avid St. Louis Cardinal fan and enjoyed watching cardinal birds outside. Leon will be dearly missed by his family.
A visitation for Leon Deadmond will be from 6-8 p.m. Thursday, January 26, 2023, at Sutherland-Garnier Funeral Home in Centralia.
Funeral services will be held at 11 a.m. Friday, January 27, 2023, at Sutherland-Garnier Funeral Home with Pastor Roger Lipe officiating. Burial will follow at Deadmond Cemetery in Sandoval with Military Honors accorded at the gravesite by the Centralia American Legion Post 446 and the Centralia V.F.W.
Memorial donations may be made to the Deadmond Cemetery Maintenance Fund and will be accepted at Sutherland-Garnier Funeral Home at 235 N. Sycamore Street, Centralia, IL 62801, 618-532-3523, who is honored to be of service to the Deadmond family. Online condolences may be made to the family by visiting sutherlandfuneralhome.com and the Sutherland-Garnier Funeral Home Facebook page.