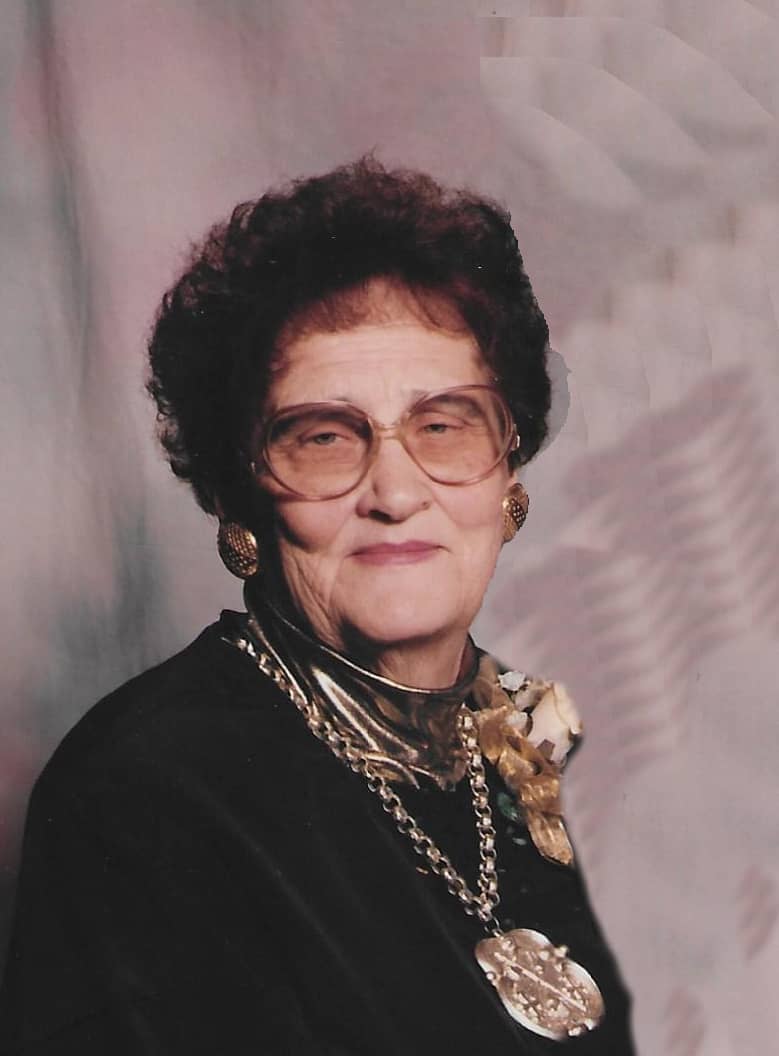 Lela Lucille Pierce, 97, passed peacefully at Mt. Vernon Countryside Manor on January 23, 2023.
Lela was born on February 27, 1925, in Keenes, Illinois, a daughter of Everitt Burkitt and Ora Mae Shaw. She was a graduate of Wayne City High School and married Glenn Avern Pierce on December 21, 1944, while maintaining her loyalty to assist in raising her siblings after her mother passed.  Her life was fulfilled being a homemaker and community leader.
Mrs. Pierce is survived by four children:  JoAnn Cameron of Normal, Gary and Mark (Jackie) Pierce of Bluford, and Dr. Shelly Pierce of Carbondale, Illinois; and seven grandchildren: Darren Cameron of Garland, TX; Brian (Amy) Cameron of Leland, IL; Dr. Kevin (Chris) Pierce of Springfield, MO, Dr. Jason (Ginger) Pierce of Alton, IL; Bethany (Bryan Camden) Johnson, of Christopher, IL; and Nicholas (Ami) and Jana Pierce of Bluford, IL;  many great-grandchildren;  one sister Ruth (Lyle) Witzel of Mt. Vernon; and nephews and nieces.
Lela joined her husband of 64 years, Glenn; parents Everitt and Ora Mae Burkitt; sisters Veralee (Guy) Wilcox, Nadene Grunder, and Alice (Darrell) French; brothers John, Dale, Lowell "Pete" (Betty), and Baby Burkitt; and one Grandson, Ryan Shane.
Lela truly lived life to the fullest through diverse interests and commitments and helped to improve the surrounding communities with meaningful service and contributions:  A steadfast member (Treasurer for 17 years) of the Community of Christ Poplar Creek Church where she remained faithful until death; community 4H leader, PTA President, County Home Extension Board Member, Jefferson County Farm Bureau Women's Club Chair, Mt. Vernon Women's Club President, Grandma's Club President, Jefferson County Christian Club President, Jefferson Memorial Hospital member Treasurer, Jefferson County Church Women United President, and a member of Royal Neighbor's and Modern Woodmen.
Lela loved to cook and enjoyed reading, card games, antiquing, sewing, crocheting, gardening, and canning.  She often taught her children the best way to learn is to read, travel, and talk to people.  Mom was a strong, determined and fiercely independent woman.  We will miss her every day.
Services will be held at 11:00 a.m., Friday, January 27, 2023, at Osborn Funeral Home in Dix.  Burial will follow at Wells Chapel Cemetery.  Friends may call Friday, from 10:00 a.m. to 11:00 a.m., at the funeral home.  In lieu of flowers, donations can be sent to Mt. Vernon Countryside Manor, and will be accepted at the service, or by mail to the Osborn Funeral Home, P.O. Box 130, Dix, Illinois 62830.  Online condolences may be made at www.osborfuneral.com, or on the Osborn Funeral Home Facebook page.
The family would like to extend our sincere appreciation to Dr. Chris Modert, Tyger Downen, and all the staff at Mt. Vernon Countryside Manor for their caring and compassionate care during the last years of our Mother's life, her dear and loyal friend, Dorothy Puckett, who even during COVID braved the odds to spend countless hours visiting, and lastly to Lisa Hawkins, who demonstrated love and dedication to Mom by giving up endless weekends and holidays to ensure mom had everything she wanted and needed.  Lastly, we thank God Mom is now out of pain and suffering and dancing with Dad in a heavenly paradise.