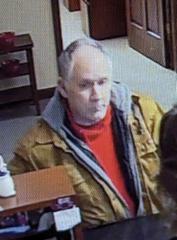 ZEIGLER, IL — Police continue to investigate at Tuesday armed bank robbery at Southern Illinois Bank in Zeigler.
Police say the suspect, who fled on foot, is described as a white male, balding with grey hair wearing a tan coat over a grey hoodie with a red shirt. You can see the suspect's picture with this story on our website's local news page.
If you see someone matching this description in the area or know who the man may be, do not make contact or approach him. Call Central Dispatch at 618-724-2432.
We hope to have more details when they become available.