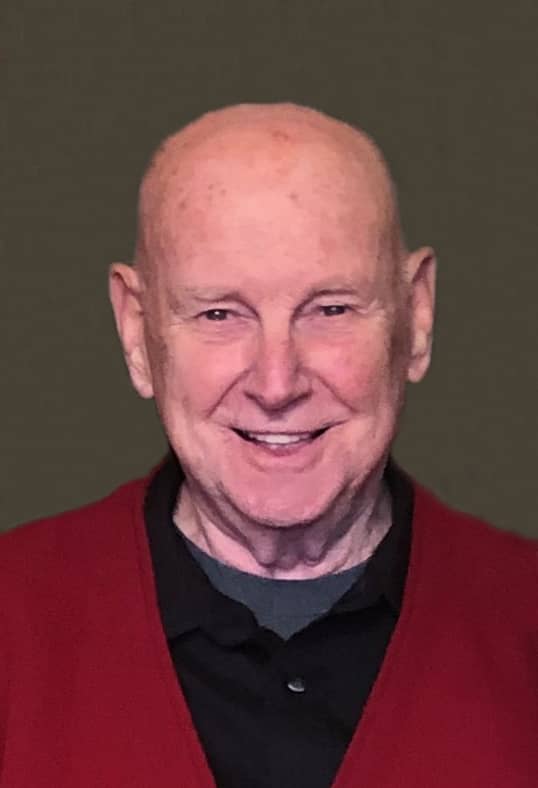 Reverend Richard Paul Scott, 86, of Mount Vernon, died 2:35 p.m. Thursday, March 16, 2023 at Mt. Vernon Countryside Manor surrounded by his family.
Services will be held 10:00 am Tuesday, March 21, 2023 at Hughey Funeral Home in Mount Vernon with the Rev. Russell Smith officiating. Burial will follow at Union Chapel Cemetery, Jefferson County. Visitation is 5:00 pm to 8:00 pm Monday, March 20, 2023 at Hughey Funeral Home in Mount Vernon and 9:00 am to 10:00 am on Tuesday, March 21, 2023 at Hughey Funeral Home.
He was born on a cold, snowy day, Feb. 12, 1937 in Mount Vernon to Paul and Ethel Scott. On Aug. 11, 1957, he married Una Mae Eller at Second General Baptist Church in Mount Vernon. She preceded him in death in 2009 after 52 years of marriage. In 2013, he married Janith Chambliss, who survives. He graduated from Webber Township High School Class of 1956. He was raised in a Methodist home and was licensed and ordained as a General Baptist pastor on January 29, 1967. He pastored several churches in the area, retiring from the full-time pulpit in 2009. He also worked at various occupations. His first job was working for Archie Body in the Marlow Store then he worked for his Uncle Lloyd Scott in a local service station. Following graduation, he worked at the International Shoe Co. and at Vernois Stove. He then worked as a locomotive electrician at Precision National Corp for 21 years. He also worked at Mt. Vernon Care Facility. In July of 1989, he went to work for Farrington Grade School as a Custodian and Bus Driver until his retirement.
In addition, he was former Camp Counselor at Modern Woodmen of America, Scoutmaster for Boy Scouts of America, 4-H club member, General Baptist Presbytery Moderator, and Bluford Ruritan Club member. Richard was also a member of Marlow General Baptist Church. He enjoyed camping, woodworking, crafts, embroidering, and gardening. In addition to his wife, he is survived by his children, Alan (Denise) Scott of Mount Vernon; three daughters, Debra (Tom) Spada of La Center, Washington, Karen (Garry) Brookman of Sikeston, Missouri and Sara (Travis) DeNeal of Harrisburg; nine grandchildren, Duane Burroughs of Longview, Washington, Jennifer and Makayla Scott of Jacksonville, Florida, Kristina, Kristofer, and Mikel Scott of Mount Vernon, Madeleine and Wilson DeNeal of Harrisburg and Tori Faulkner of Tallulah, Louisiana; a sister, Margaret Elmira (Robert) Kogok of Reston, Virginia; five nephews, Robert Kogok, Jeffrey Kogok, Byron Eller, Russell Reaney and Kenneth Reaney; two nieces, Linda Davenport and Madonna Talley; a stepson, Howard (Cheri) Chambliss of Abilene, Texas, two stepdaughters, Donna Bauer of Mount Vernon, Indiana and Paula Sexton of Yorkville; eight step-grandchildren, and several great-grandchildren, great nephews and nieces and many friends and neighbors. In addition to his wife and parents, he was preceded in death by a grandson, Robert Burroughs; a brother-in-law Ronald (Vera) Eller; a sister-in-law, Wanda Livesay; and several aunts and uncles.
Memorials may be made in Richard's honor to the Marlow General Baptist Church Building Fund. Call Hughey Funeral Home at (618) 242-3348 or visit hugheyfh.com for further information.